Food Together Project
Food Together Project
23 March 2018 (by keira burnsall (kburnsall))
Well Done!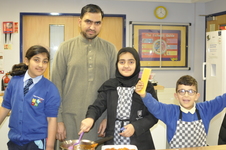 A big well done to the children and parents who have completed 3 weeks of the 6 week family cooking course in school.
Each week the children have been supported by their parents to make delicious foods such as fruit smoothies, healthy homemade chicken nuggets and coleslaw and homemade pizza's.
Along with the practical work that take's place in the kitchen the children and parents also take part in focused activities looking at healthy diets, nutrition, portion size, understanding food labels and cooking on a budget!
We look forward to the 3 remaining weeks that the families have left to complete.
If you are interested in taking part in family cooking session please speak to Claire in the school office.