Seaside Trip
Seaside Trip
14 July 2017 (by keira burnsall (kburnsall))
Nursery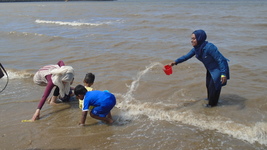 Nursery children and families travelled to sunny Morecambe on Thursday 13th July. Our first stop was Happy Mount Park and we enjoyed train rides, a splash park and an adventure playground.
We then returned to the coaches and traveled to Morecambe's North Bay. We were very busy with digging holes, building sandcastles, splashing in the sea and eating ice creams that before we knew it, we were returning to the coach and travelling back to Bradford.
We all had a lovely day!