In Search of Sakura
In Year 5, the children have been learning all about Japan. At this time of year, as the cherry trees are festooned with blossom (known in Japan as sakura), Hanami festivals take place all over Japan. Hanami literally means 'looking at flowers' and refers to the flower appreciation picnics that take place under the blooms. Cherry blossoms are highly revered and deeply symbolic in Japanese culture. They represent new beginnings. The blossoms are fleeting, blooming for just a week before the petals tumble from the trees in what is known as 'sakura snow'. Predicting when the cherry blossoms bloom in Japan is a serious business. Teams of meteorologists are tasked with predicting when the flowers will bloom. As Japan is a temperate climate, the time of blooming varies across the country. You can finding out more about the forecasting of the cherry blossoms here: https://www.kyuhoshi.com/japan-cherry-blossom-forecast/
At Forest School over the past few weeks, we have been watching the trees around us waking from their winter slumber. Last week we headed out to Peel Park in search of blossom trees to picnic and play under. We found some beautiful trees at the side of the duck pond adorned with beautiful blooms. We returned today to witness the 'sakura snow' as the petals rained down on us like confetti.
Snow Much Fun
Cherry Group have been making the most of the wintery weather this week. Well wrapped up in plenty of warm layers, we headed off to the woods, taking it in turns to pull each other along in sledges. When we arrived at our base camp, we were excited to find that some of the woodland inhabitants had left their marks in the snow. We spotted bird and rabbit tracks dotted all over the woodland. Halima decided to use some branches to create her own patterns in the snow.
The children found a hill perfect for sledging down, expertly dodging between the trees as they slid. After all that exertion, the children had definitely earned a warm cup of chocolate. We all agreed hot chocolate tastes even better in the snow.
Introducing 'The Muddy Buddies'
We have certainly had a wet, windy and wild start to 201. It didn't, however, stop Rowan group from getting outside for some muddy fun today. Expertly led by our guides for the morning, Sanaullah and Aymen, we trekked up clay covered slopes, through holly thickets, and over moss covered rocks to the north east corner of Ravenscliffe Wood. As they cheered each other on to scale the grueling summit, the Muddy Buddies were born. They are looking forward to sharing many more woodland adventures over the coming term (Hopefully not all quite so muddy!)
Autumn for Beech Group at Forest School
Autumn Term for Cherry Group at Forest School
Cherry group have had a busy term at Forest School. They have explored the woodlands and discovered new places. They have helped to take care of nature by feeding the ducks and making bird feeders. The children enjoyed swinging each other in the hammocks and playing hide and seek together. They have observed how the woodland has changed with the seasons and made the most of the sunshine, the wind, the rain and the frost. Shrinking potions have been mixed, wind streamers were made to blow in the breeze, tree have been climbed and minibeasts discovered. Challenges have been met and fun times shared.
What will next term's group discover in the woods?
Autumn Term for Holly Group at Forest School
Willow Group Autumn Fun in the Woods
Autumn is a magical time to visit the woods - cool crisp air and crunchy leaves beneath your feet. Willow group had a wonderful time catching falling leaves, hunting for fungi and galls, making leaf art, building stick dens and burying themselves in piles of oak leaves. Why not go on an autumn woodland walk this weekend. See if you can catch a falling leaf and make a wish.
Teaching the School Dog Forest School Agility
Foraged Garlic Butter with Beech Group
Late spring is a wonderful time to forage for edible leaves. In previous sessions, Beech group had tried some wild garlic and garlic mustard. They had discussed how the leaves could be used in cooking and it was agreed that we could use them to make our own garlic butter. So this week, we decided to do exactly that. We filled jars half full with whipping cream and a little salt and set about shaking them (to turn the cream to butter) on our walk to the woods. By the time we had reached the entrance to the woods, the buttermilk had begun to separate from the butter solids. We collected a few leaves of garlic mustard and wild garlic, rinsed them and added them to the jars (pouring off the buttermilk as it separated). Kieran supervised the building and lighting of the fire. With us, we had brought a selection of different breads (bannock, pitta, gluten-free, bagels) to toast over the fire and serve with our garlic butter. A few of the children enjoyed the garlic butter so much that they collected some more garlic mustard leaves to try it at home. Some of the children preferred the plain butter, but we all agreed it was great fun making it.
On Friday, Rowan group had a visitor join them for their sun-kissed Forest School session. Miss Trotter of St. Francis Primary School, is about to introduce Forest School to her class and was keen to see what an established Forest School programme looks like. The children were happy to show off all the wonderful learning opportunities the woodland holds. Eesa, Anthony and Awais used trowels to dig for mini beasts and found a rather impressive earthworm. Krystal returned to her favourite tree den and with the help of Anthony, Libby and some of the other children, created a rope swing. Amina and Aleeza used wool to create a Nordic slinging braid. Anthony and Libby paid a visit to the horses who often come to greet us during our sessions in the hope of a nose rub and perhaps even the odd carrot or two.
Miss Trotter was really impressed to see how the children all chose objects they wished to pursue and were actively engaged in their throughout the afternoon.
By being given the freedom to learn through play and set their own goals the children are learning a whole range of skills from decision making, negotiating, time management and team work, to knowledge about the environment, observation skills and problem solving.
It is always exciting to hear that another school is about to experience the benefits of Forest School, as it is plain to see just how much the children at our enjoy their time connecting with nature.
Holly Group walked to Woodhall Plantation for their Forest School session this week. They explored the site to see what they could find. Some of the children had been to the plantation before with family and friends. The children helped to assess which places were safe to play in and which were too hazardous. They identified pits in the site where the rocks on the embankment were loose and the sides of the embankment were steep. They agree that these would not be safe places to play even though there were signs that members of the public had climbed down them. The rest of the site had lots of safe places to play and things to discover. The children spotted bluebells growing in to top corner of the site and also noticed holes in the trees made by woodpeckers. They came across a rope swing. The children helped to assess the safety of the swing by asking themselves the following questions.
Is this rope thick enough to hold my weight?
Is the rope in good condition with no frayed parts?
Is the rope tied securely?
Is the tree that the rope is tied to strong and healthy? (leaves on the branches, no signs of rot or fungi, cracks, missing bark, roots firmly in the soil)
Is the stick tied to the rope strong enough to hold my weight?
Is the ground beneath the swing clear of hazards? (rocks, glass)
Will I bump into anything as I swing?
Will I damage the tree or disturb any nesting birds or bees by using the swing?
How far will I fall if I fall off the swing?
The video below shows Matthew getting a few pointers on how he can make himself swing further
Aliens have crash landed in Ravenscliffe Wood
Luckily Hazel group are on hand to help them find food water and shelter
Pancakes and Please Mr. Crocodile
It may be spring, but winter isn't quite ready to let go, yet. Undeterred by the wind and hailstones, Cherry group wrapped up warm and headed out to the woods, making the most of the numerous puddles along the way. As we walked down Fagley Road, the children spotted daffodils and daisies signalling the longer lighter days. A quick peep into the pond at Ravenscliffe Cottages revealed that the frogs have returned to the pond to lay frogspawn. We had to look very carefully to see the frogspawn under the blanket of pond weed. Whilst we waited for the campfire to take hold, we kept warm with a few games of 'One Two Three, Where Are You?' Today for snack we toasted blueberries and mini pancakes to accompany our hot chocolate. Some of the children were a little nervous about approaching the fire, but built up the confidence after watching their friends toast their pancakes safely. When snack time was over, the children took it in turns to pour water onto the ashes, making sure it was safely extinguished before leaving the site as we had found it. Suitable re-fueled, we rounded off the morning with a game of 'Please Mr. Crocodile'.
Rangoli Inspired Woodland Art
On Tuesday at Fagley, the children took part in Faith Day, which focused on the Hindu Celebration Holi. Holi is a joyous and colourful festival that celebrates the end of winter and the coming of spring as well as the triumph of good over evil. The festivities include the throwing of coloured powder.
The coloured powder - or gulal - thrown during the festival come from the legend of Krishna, whose skin was dark blue. Worried he wouldn't be accepted by his love Radha, he mischievously coloured her face to make her like himself.
Today, anyone at Holi is fair game to be covered in the perfumed powder as a celebration of Krishna and Radha's love, regardless of age or social status. The powder also signifies the coming of spring and all the new colours it brings to nature.
Historically, the gulal was made of turmeric, paste and flower extracts, but today synthetic versions are largely used.
The four main powder colours are used to represent different things. Red reflects love and fertility, blue is the colour of Krishna, yellow is the colour of turmeric and green symbolises spring and new beginnings*
Hindus also often decorate the floor outside the entrance to their homes with rangoli. Rangoli are made from coloured pigments, rice, flour or sand and are fashioned into ornate geometric patterns or flowers and animals. Rangoli are thought to bring good luck and prosperity to the home.
Taking inspiration from this, in the woods today, the children chose to create their own rangoli using coloured sand and drawing their ideas from patterns and plants they observed.
Frogspawn Hunting
The days are starting to grow longer and warmer. Signs of spring are all around us. The children have been eagerly awaiting the return of frogspawn to the ponds in our wood. Depending on the weather, frogs usually spawn in late February or early March. Frogs can lay up to 5000 eggs that will hatch after around two weeks (depending on the water temperature). When the tadpoles first emerge, they have a tail but no legs. They feed on algae, small plants and sometimes each other!
The tadpoles back legs start to grow at around 16 weeks, followed by their front legs. They will then lose their tales as they turn into froglets and venture out of the water. The gills that they used to breathe under water will develop into lungs, though frogs can breathe through their skin too! Although frogs can spend months underwater, they can live on land also. They are found in meadows, gardens and woodlands and often hibernate in compost heaps. Adult frogs are carnivores and eat insects and slugs. Few frogs survive the journey from frogspawn to adulthood hood as many animals and birds prey on them. Frogs rely on camouflage to help protect them from predators. They can live up to 3 years. If you do spot frogspawn in a pond or stream, remember not to disturb it. They have a tough enough journey to make it to adulthood without us interfering! Why not take a photo or do a drawing of it. It is great fun to revisit over the weeks and watch them grow.
This weekend why not go for a walk in the woods and see how many signs of spring you can spot.
For inspiration and ideas of things to do in the woods in springtime why not visit the Woodland Trust website.
Woodland Trust Spring Activities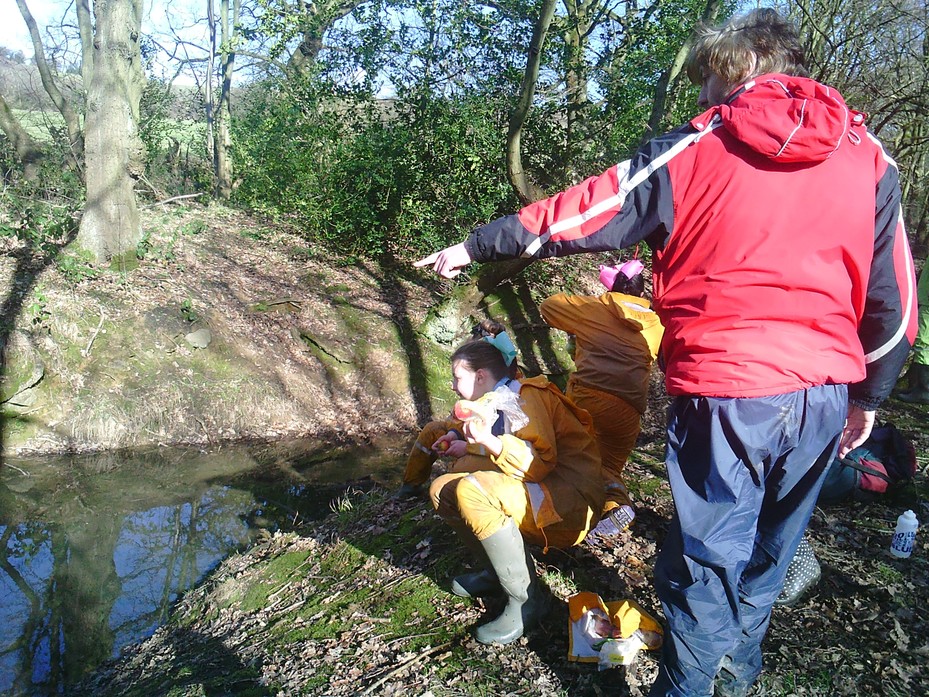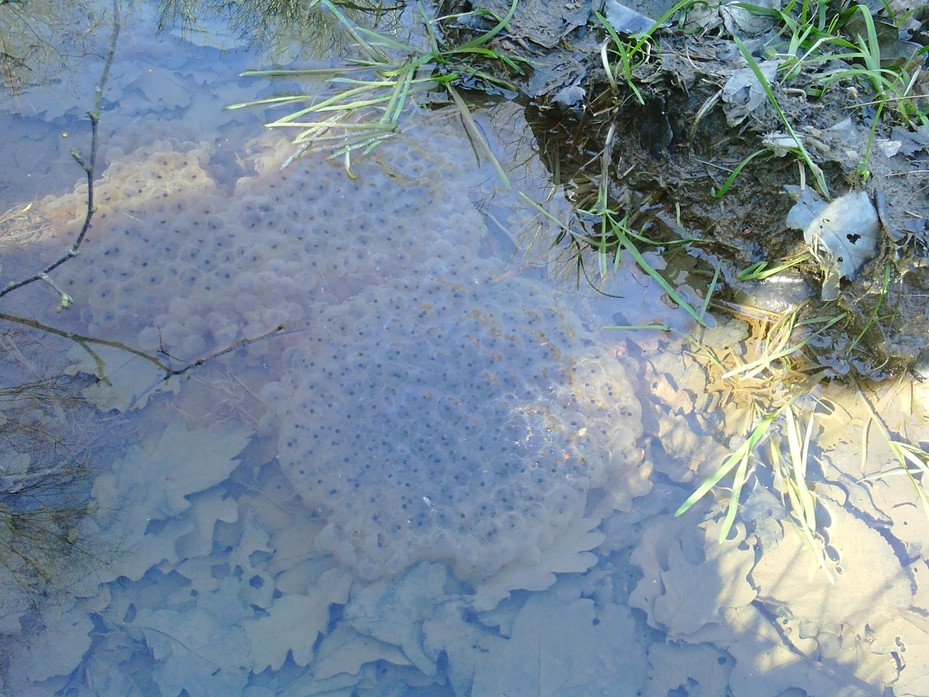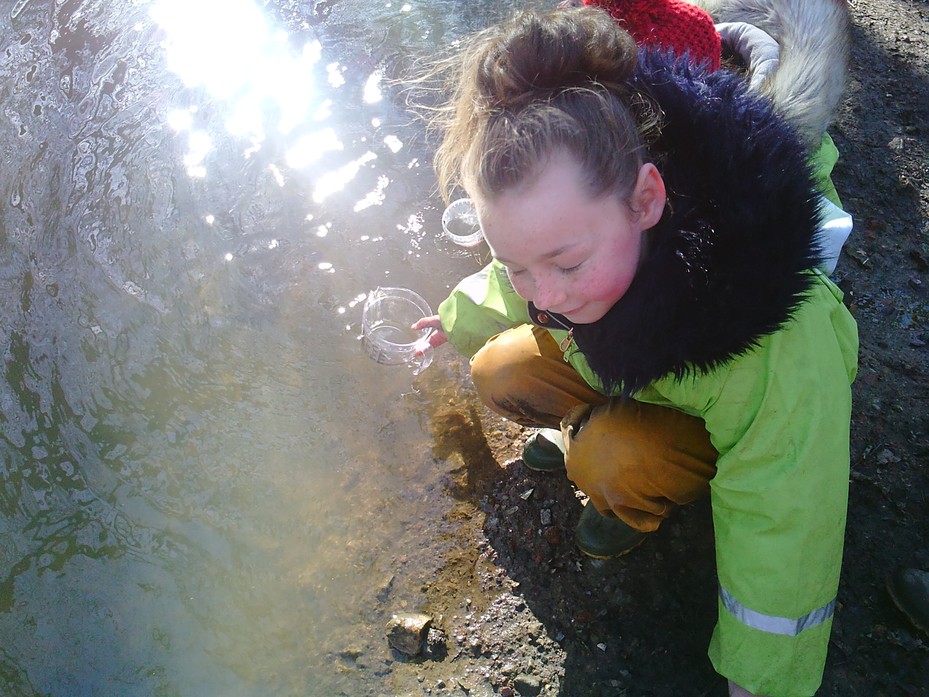 Woodland Tales Group
Our Woodland Tales group visited Woodhall Plantation today. This woodland is a 5 minute walk north of Ravenscliffe Wood. Woodhall Plantation is comprised of mainly beech trees dating back to the turn of the 19th Century. Although lacking in the bio-diversity of its counterpart Ravenscliffe Wood, it still provides a stimulating educational environment. The smooth elephant-like trunks of the beech trees and roots which appear to snake over the woodland floor, create a fantastic stimulus for the children's imagination. Woodhall Plantation being on flatter ground than Ravenscliffe Wood with more uniformly placed trees makes it much more suitable for hanging hammocks. The children used this opportunity to learn how to safely hang their own hammocks and rewarded their efforts by reclining and enjoying some woodland themed stories with a cup of hot chocolate.
Watch the Birdie
This weekend, was the RSPB Big Garden Birdwatch and from January 3rd to February 17th, is the Big Schools Birdwatch.
At Forest School, we have found many ways to get involved. Willow and Holly group have been recycling their milk cartons to make bird feeders to place around the school grounds. Holly then went on a walk to see what birds they could see in the surrounding area, whilst Willow group set up a bird hide in the library and trained their binoculars on the rooftops over Fagley. Between them, they spotted the following birds: Black headed gulls, blackbirds, crows, magpies, starlings, blue tits. It was an extremely cold day and we wondered if this had influenced the number and range of birds that we saw.
Rowan and Cherry group looked out for birds on their way to the woods. They spotted the same species of birds as the other groups had as they walked through the estate, but as they neared the edge of the woodland, they noticed other birds such as robins and jays. We talked about the different types of food birds like to eat and how this may have influenced where we sighted the species of birds.

The RSPB website, www.rspb.org.uk has a wealth of information about on how to identify bird species, what their diet is and where they are most likely to be spotted. In addition, the Forest School bookshelf has several bird identification books that children are welcome to borrow.

The Woodland Tales group have been sharing a lovely story called 'The Crow's Tale'. Based on the traditional Lenape Indian Legend 'Rainbow Crow'. The Crow's Tale tells the story of a bold and brave bird embarks on a perilous journey to bring fire back from the sun to warm the frozen and famished animals. The radiant rainbow crow pays a high price for his courageous deed, but learns a valuable lesson along the way.
The book is lavishly illustrated and written in rhyming couplets, which makes it a joy to read aloud.

The final recommendation for learning more about our feathered friends are Radio 4's Tweet of the Day podcasts which can be found by clicking here.They are a brilliant way to learn about a whole host of birds from Britain and around the world including how to identify their birdsong and calls.

Happy Birdwatching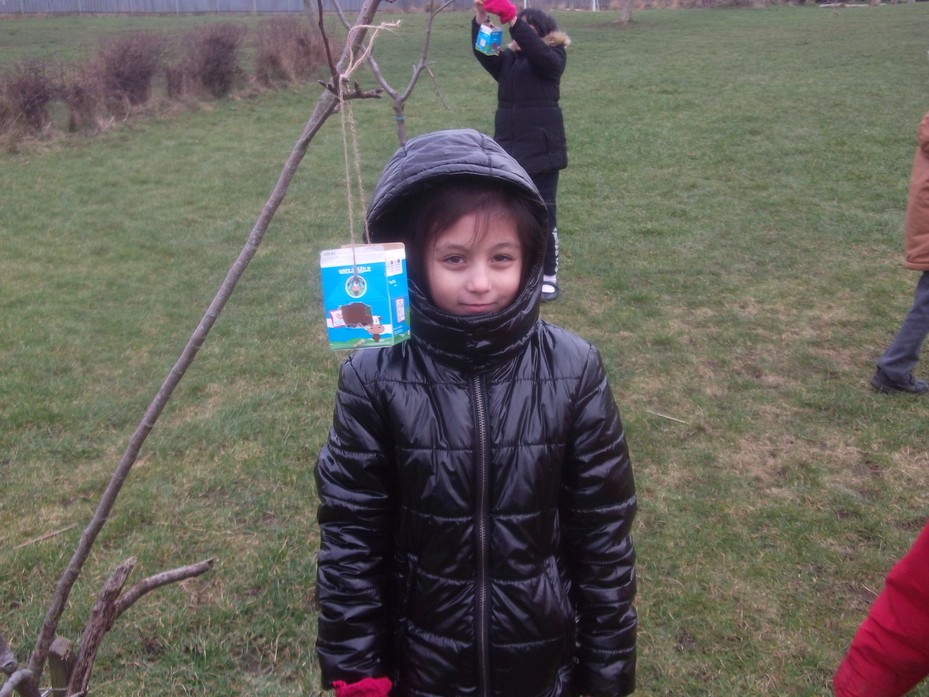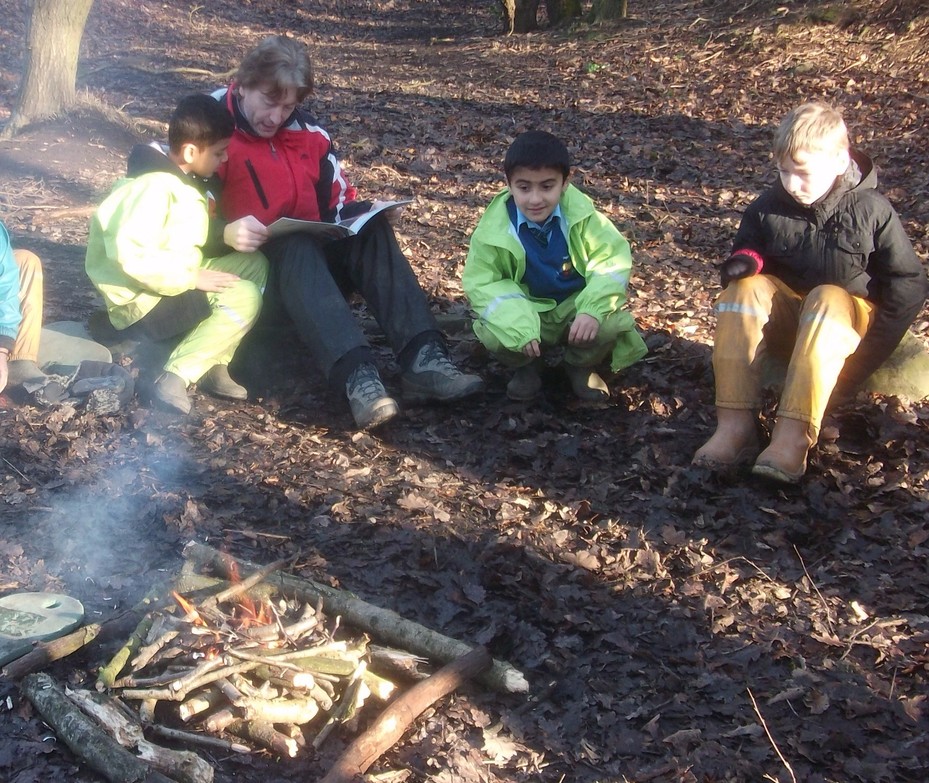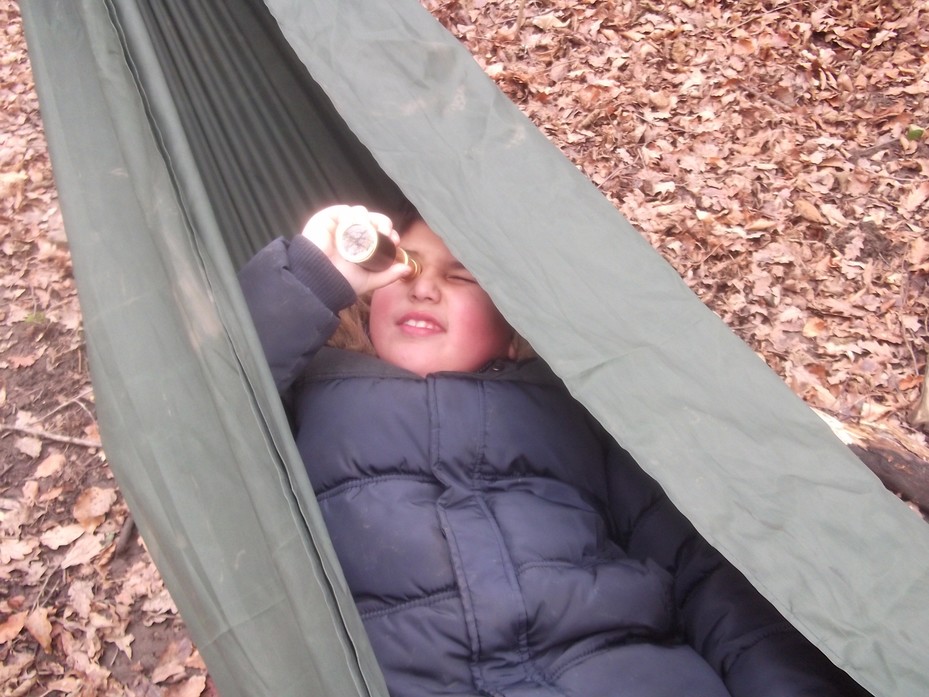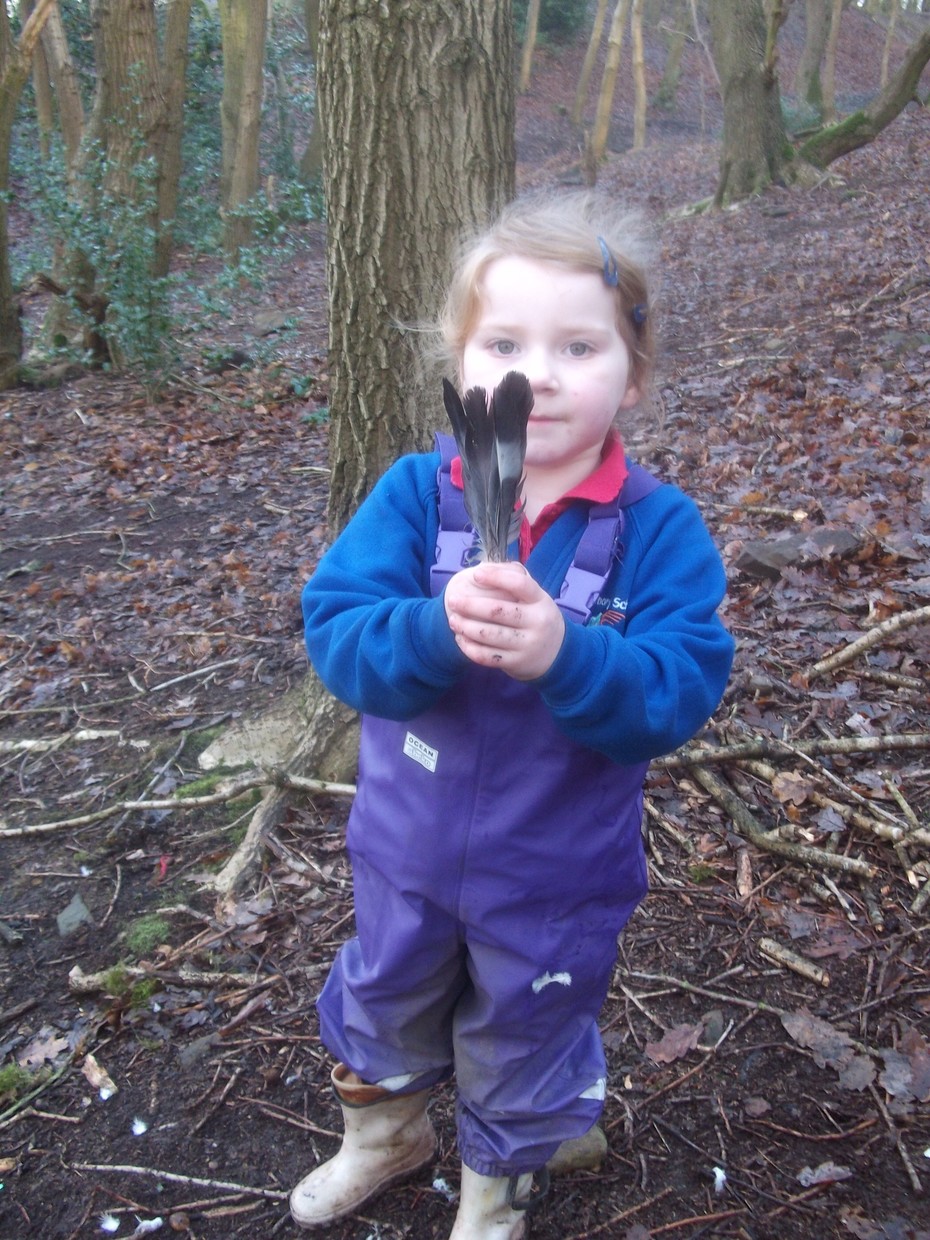 No such thing as bad weather....
At Fagley Primary Forest School, we believe it is important for our children to be able to enjoy the outdoors whatever the weather. Children are encouraged to bring their own gloves, hats and spare socks, and to ensure their comfort and wellbeing, we provide them with a set of waterproofs to wear during their session. This allows the children to really challenge themselves and feel free to explore all the woods have to offer. All that tree climbing, puddle splashing and den building does take its toll though. So, this week, we took delivery of some shiny new waterproofs. Cherry group were the first to try out the new kit on a suitably damp and misty morning. Undeterred we ventured out ready to explore, stopping off on the way to feed the horses and of course, splash in a few puddles. When we reached our woodland base, the children were free to explore and follow their interests. Kevin noticed that the bark on the branch of a tree was loose and starting to break away. He, Alivira and Zahra were keen to find out what was lurking below. As they dug away, they discovered woodlice and centipedes feasting on the crumbly rotting wood. Meanwhile Kai and Kayla collected wood and leaves to create a shelter whilst Rijana, Hooria and Halima went in search of treasure. We rounded off the morning with a warm drink and a chat about what we would like to do next time.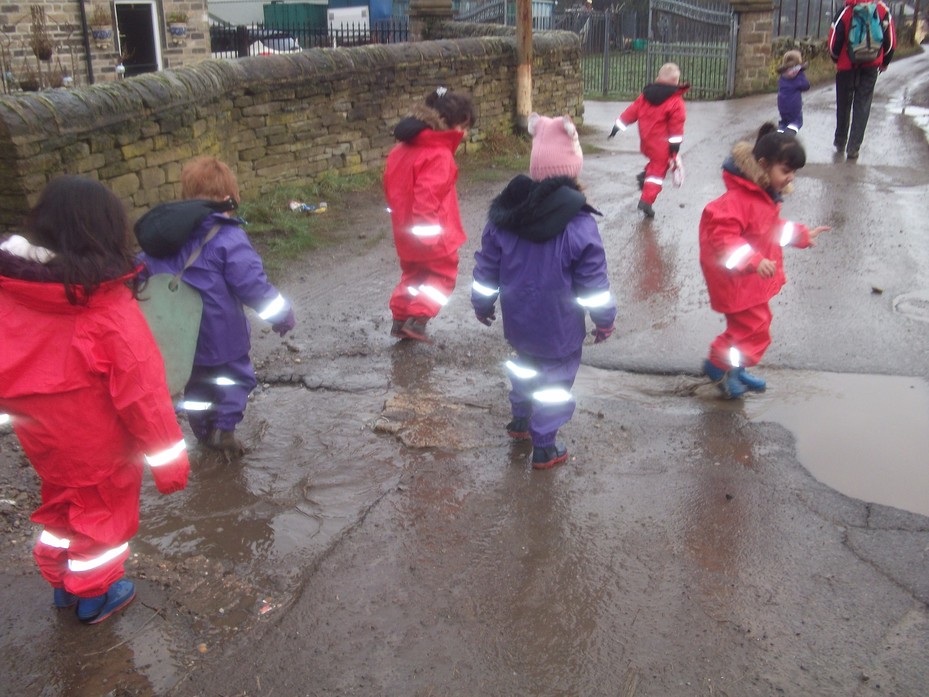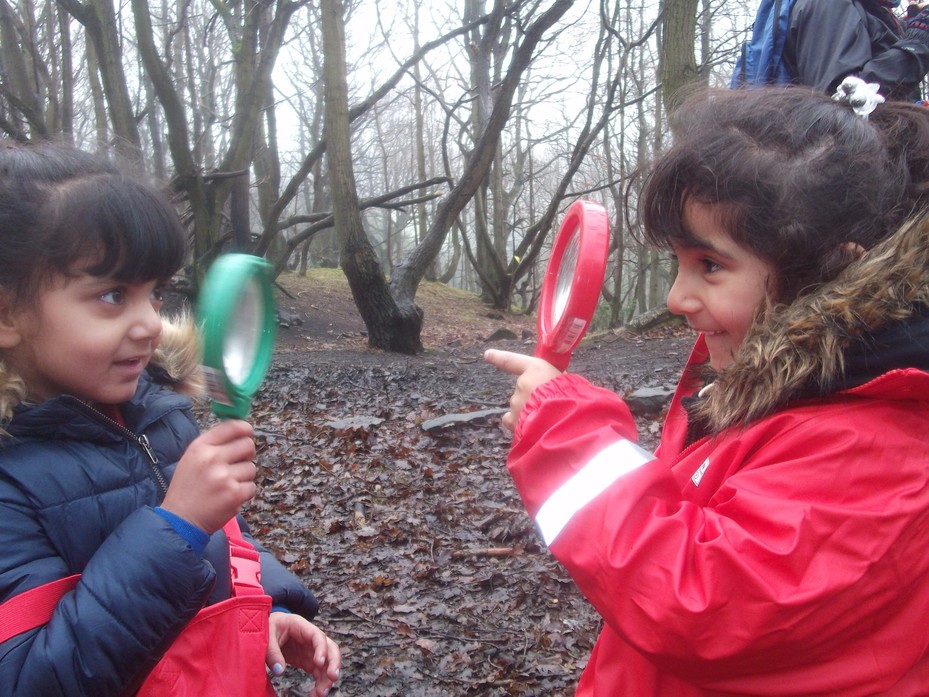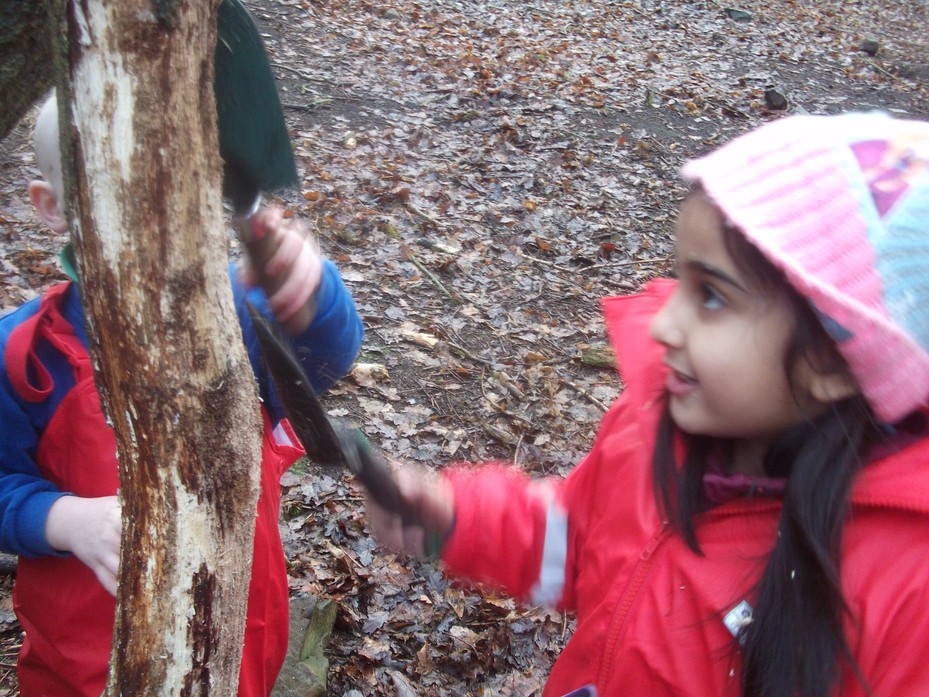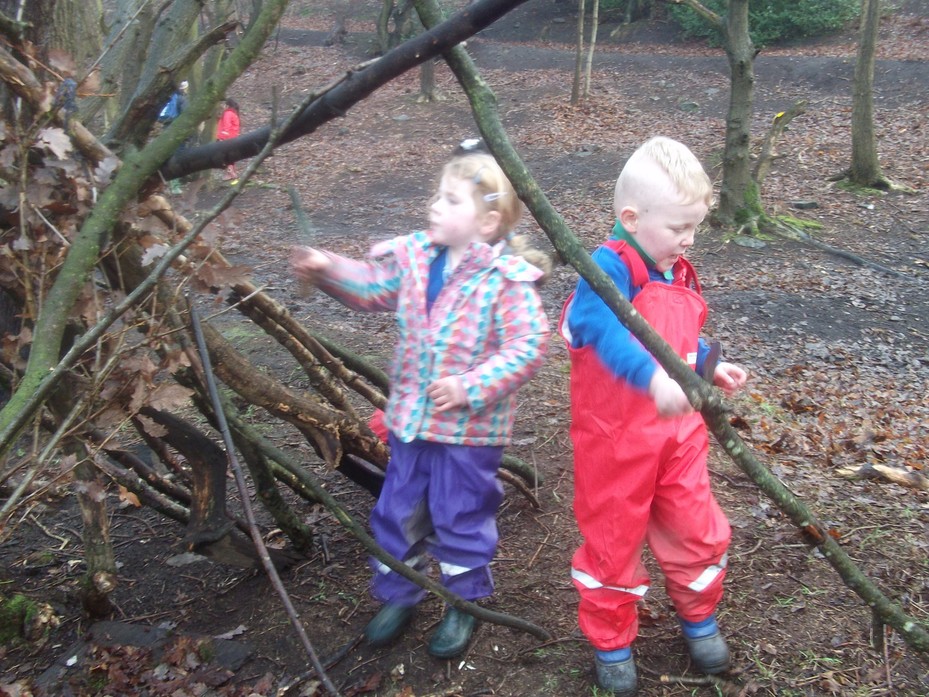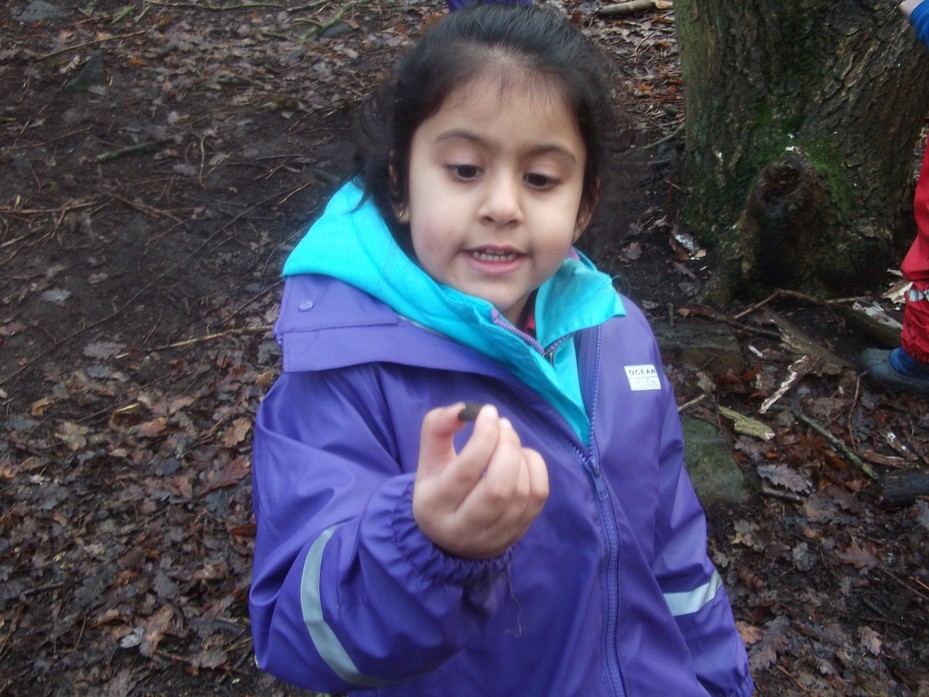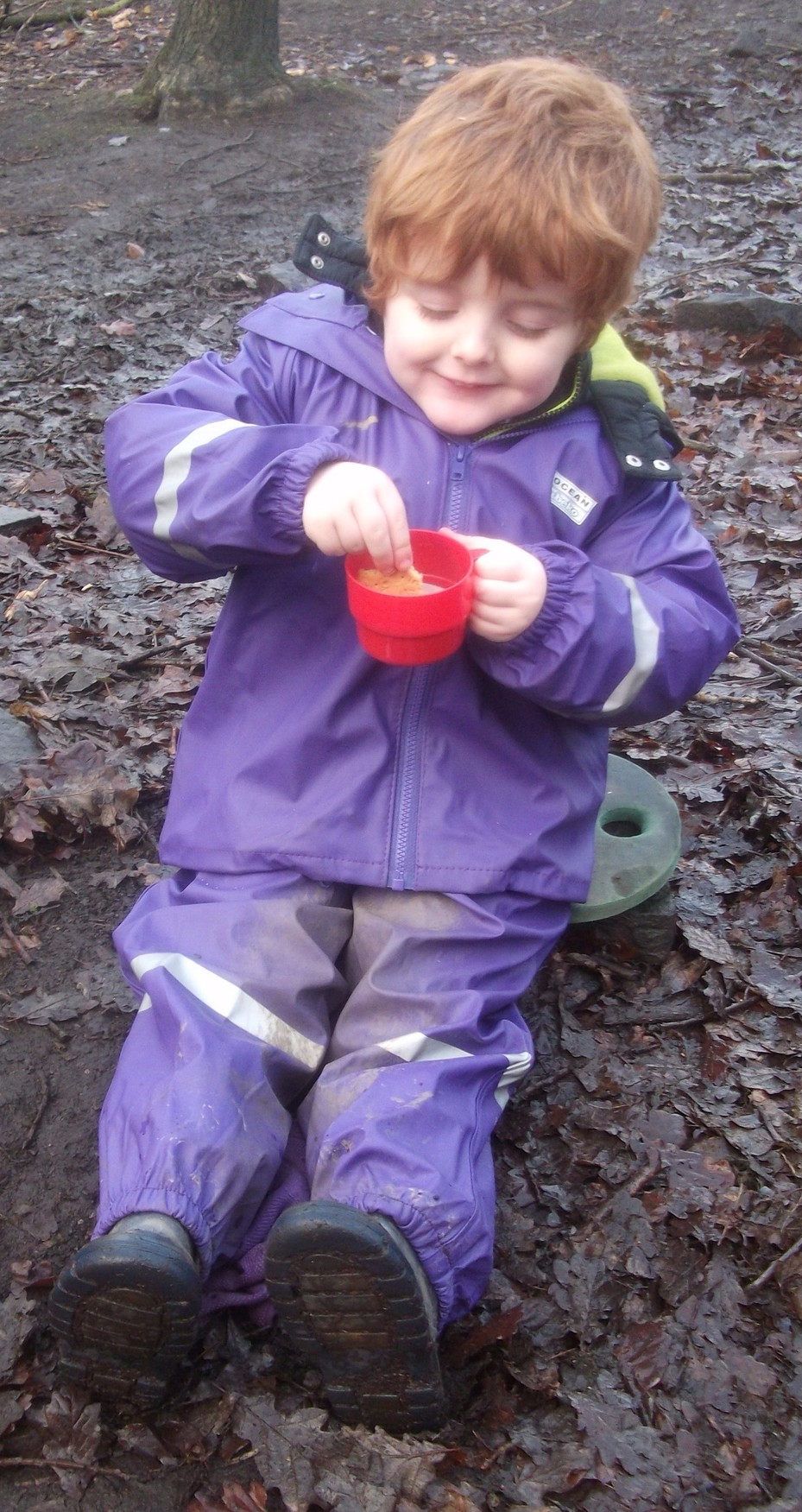 Cherry Group January 3rd 2017
A new year begins and new groups of children begin their term at Forest School. Today it was the turn of cherry group. As we made our way to the woods, Kevin noticed some dark black clouds in the distance. "It might rain and thunder" he remarked. Luckily although chilly and rather blustery, the rain held off.
As we walked into the woods, the children noticed brown mounds of earth piled up. What had caused the mud piles to appear I queried. Kayla and Kevin knew the culprits were moles, burrowing underground. "They eat worms" Kayla added, "I can see worm holes here, look".
We continued our adventure into the woods. As we walked, Kai suggested that if we came across a bear, we should be nice to it. The children had learned all about going on a bear hunt on their trip to Nell Bank before the holidays. Hooria said if it was dark, we would have seen some owls.
We reached our stone circle in Welly Wang Valley and set out our boundaries for the session. It was quite blustery, so we had to keep a look out for loose branches above us. After a few games of hide and seek, the children used the binoculars, magnifying glasses and trowels to hunt for treasure. Halima dug down and found some treasure, but needed to dig deeper before she could retrieve her booty, a magical rock.
Kai found a fabulous stick with a piece of wool attached, which he used as a fishing rod and a kite. Kayla said the stick she had found was like Harry Potter's wand. Kayla told me that over the Christmas holiday, she had enjoyed watching Harry Potter films before bedtime. She also found one that had leaves and wool attached to it, which she turned into an animal puppet. Hooria found a long stick that looked like it had an eagle's claw on the end of it.
After snack, it was time to make our way back to school. We didn't manage to spot any bears this time, but Hooria and Kai nearly lost their wellingtons in the oozy oozy mud!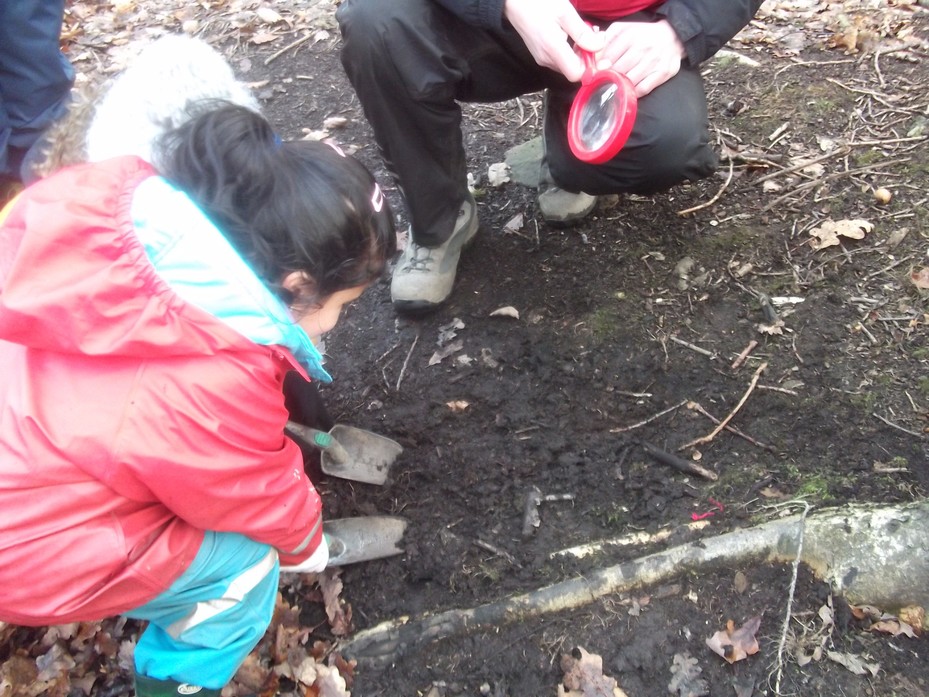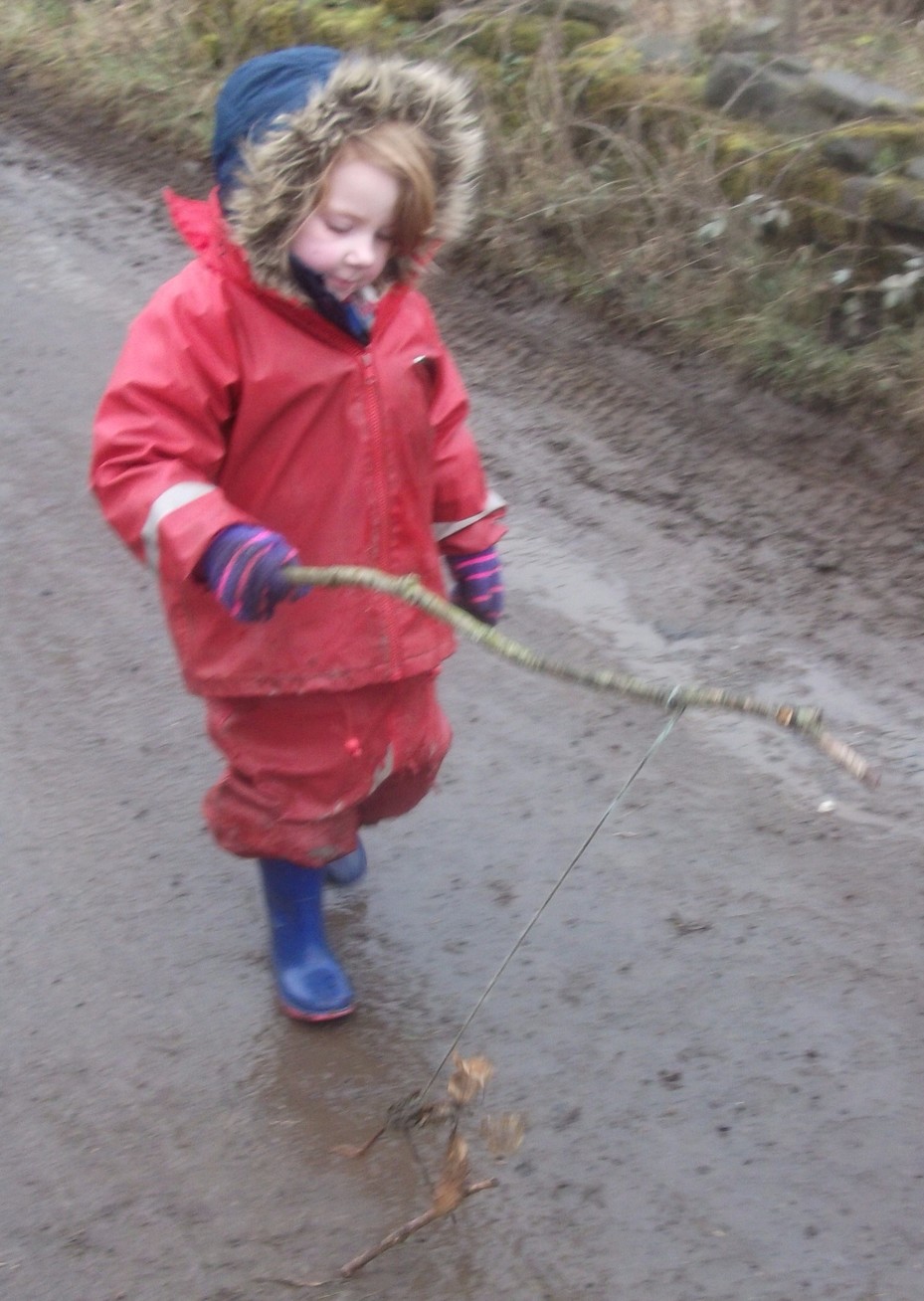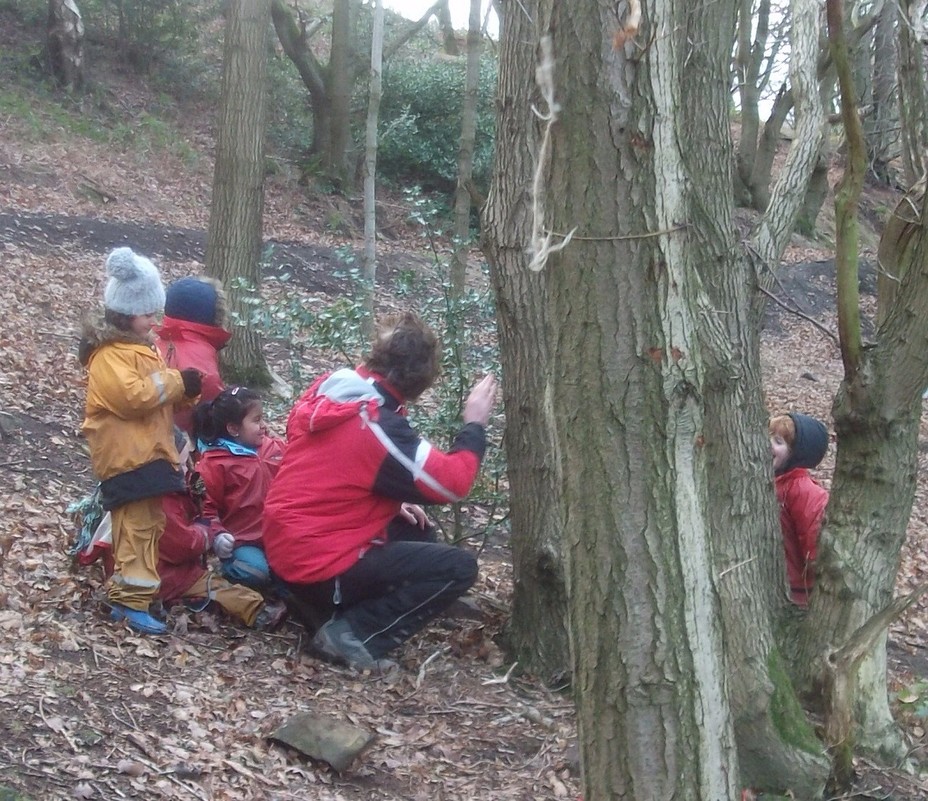 Forest Schools
Willow Group Autumn 2016
Sharing Tree Stories with Rowan Group
After a frosty afternoon of spring bulb planting, Rowan group headed inside for a warming up of malted milk. We also took the opportunity to share one of Claire Hewitt's tree stories. With December just around the corner, Rowan group chose to listen to the 'Pine and Holly' story. Claire has compiled an informative and enchanting collection of 12 stories, one for each month of the year, each centering round a particular tree and the folklore attached to it. The stories can be found by following this link: Forestry Commission Tree Stories
Below is an extract from the story of the 'Pine and Holly'
It was mid winter.Snow and ice lay thick upon the earth.It was a hard enough time for the forest creatures, but one wild windy night, a wee robin was carried far from the shelter of his home, and with a broken wing he could not fly back.
He did not know what to do. He looked all round to see if there was any place he could keep warm. "Perhaps one of the trees will shelter me until my wing is mended" he thought.
So he hopped and fluttered with his broken wing towards the forest.
The first tree he came to was a slim silver birch.
"Lady of the Forest," he said, "will you let me live in your branches until I can fly again?"
"I would of course but I am afraid you might break my slender branches" said the gentle birch as the wee bird shivered and puffed up his feathers to keep warm.
"Why don't you go and ask my friend the Oak. He is big and strong and I am sure will give you better shelter than I can offer."
So off the wee bird hopped and fluttered until he came to the Oak.
Oh King of the Forest," called Robin, "please will you let me sit amongst your great branches"
For older Forest School posts please clink on the link below to visit: