On Tuesday 4th April 6 children from year 5 took part in the 'High 5' netball tournament.
With 5 players on court, High 5 enables you to engage more kids off court. Off-court players take on roles such as time keeping and scoring.
The team are encouraged to switch position each match to explore different areas of the court in a match setting.
Fagley played 6 matches back to back, it was very fast paced. They remained focused and played brilliantly as a team.
The fixture were:
Fagley 0 – Cavendsh 1
Fagley 2 – Swaine House 0
Fagley 1 – Holybrook 1
Fagley 0 – St Francis 0
Fagley 6 – Our Lady and St Brendan's 0
Fagley 3 – Thorpe 0
Fagley Placed 3rd overall in the tournament and were 1 point from placing second, very unlucky. However their on court efforts were recognised and they were awarded the 'Sportsmanship Award' for fantastic team work and the support shown to other teams in the tournament.
Well done to the year 5 children who took part, bring on the next tournament.
Cross Country Event
Year 4&5
Year 3
Gymnastics Festival
Fagley Cycling Club
Every Friday 3:15 - 5:00pm
U11 Girls Football at Goals (2nd place finish)
The U11 girls played in a league of 6 teams, the girls got off to a winning start and went on to win ALL the matches in their league. This meant we finished top of the league with maximum points. We then progressed to the finals which consisted of the 2 top teams from our league and the Thursday league. We started well wining our first 2 games, we then drew which meant we finished overall in 2nd place. We were the only school in the competition not to lose a game. We now progress to the BRADFORD FINALS in February.
Ultimate Frisbee at The Karmand centre Sports UK (3rd place finish)
This was a competition run for year 6 children, the 10 schools were split into 2 leagues, we started slow losing our first game but then after a little chat and change of tactics we went on to win all our remaining games, the 2 top teams from the leagues would play for 1st and 2nd place and the two 2nd place teams would play for 3rd and 4th. We played Thakley on the game and finished 3rd overall. The kids represented the school fantastic by showing great respect and sportsmanship to all the other teams.
U11 and U9' Cross Country (3rd place finish)
Sports UK hosted a cross country even at Wellington Primary school, 8 schools competed in the event. The U11's cross country was 1400 meters with the U9 running 900 meters.
It was a rainy day therefore the track conditions were slippery and the hills proved challenging, however the Fagley representative pushed through right to the finish line and were awarded 3rd place overall.
Well done to all the children who took part from Fagley and the other local school
Football Tournament
Over the past two weeks 7 children from class 3 and 4 have taken part in an U9's football tournament hosted by Hanson Academy.
This was the first competitive tournament for all the children involved.
In the tournament we played 6 matches in which we Lost 4 games - Won 2 games.
One of the winning matches we Won 5-0, the boys showed great grit and determination throughout, worked as a team and represented Fagley Primary School in a very good manner.
They look forward to the next tournament now they have gained more confidence.
Well done U9's.
Gymnastic Club
In gymnastics club we have taken inspiration from this summer's Olympic Games.
We have been practicing our individual floor skills such as, jumps, leaps, cartwheels and dance.
We worked in groups to make a short routine to share our ideas and skills with one another.
Everybody is showing great progress and working well to trust each other and perform confidently.
Well done Gymnastic club!
Olympic Celebration Ceremony
Fagley Primary host Summer Olympics
Who do you support?
Who does your child support?
Children paraded with flags and banners to National Anthems of
Brazil

USA

Argentina

Australia

Jamaica

France

India
The sum shone down, the children cheered, laughed and sung their hearts out to 'I'm a believer'. Children received certificates for making the most progress in reading, writing and maths.
Classes entertained us as Year 2, 3 and 5 sang with years 1, 4 and 6 performing samba pieces on the drums - really loud!
Staff and children waited in anticipation to see the results of the Sports Day. Sir Titus Salt proudly received their medals with a grand finale of the whole school's rendition of The National Anthem.
Another great day at Fagley Primary School.
Children love cycling - it's fast and fun, and gives them freedom and independence to get around.
Six year 6 children went to a cycling competition where in race after race we pulled in the points. Our first event of this kind with seven schools fighting for a place - be it first, second or third.
Our children came back triumphant in third place. What a huge success for our children - we are so proud of them and look forward to next year!
Reasons to cycle this summer... (with your children, on your own, or your children on their own)
Improve your fitness

Boost your positive mental fitness

Travel for free

Introduce a healthy activity

Do something together

Cyclists are a fit as a person 10 years younger than them
Would you like a parents' cycling club? Let Mrs Blythe know what you think.
Well done Year 6!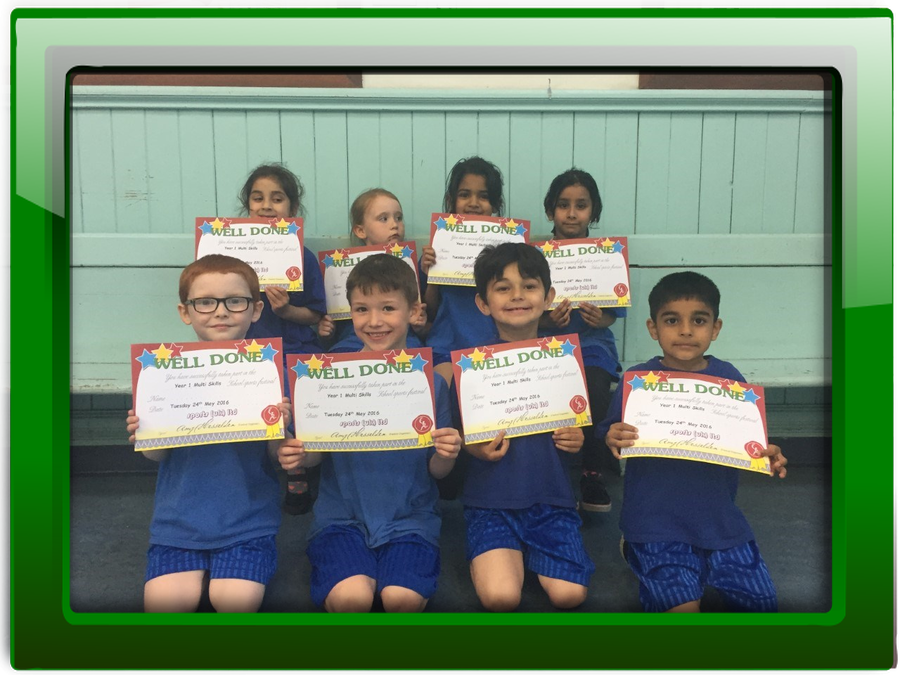 Year 1 Multi-skills festival
Team:
Danny
Joshua
Ayaan
Harvey
Muskaan
Hafsa
Janaat
A fantastic effort by the team finishing 3rd overall. A great team effort overall winning two of the stations (Throwing and ladders) and coming second and third place in the rest of them.
Very well done to the team as it is their first tournament at Fagley, looking forward to the year 2 tournament next year.
U11 Rounders Tournament
20.05.2016
The Students selected to represent Fagley Primary school were Amna Riasat, Dominic Difiori, Elliot Brophy, Danish Muhammed, Hasan Mohammed, Haroon Ashfaq and Kai Smith.
All students behaved exceptionally and showed great team spirit by encouraging each other throughout.
We played a total of 6 matches, winning 2 drawing 1 and losing 2.
Every team member contributed to scoring some fantastic rounders and always showed great sportsmanship to other teams and officials.
Boys U11 football at Marley
We played 5 matches in the group stages
Fagley 1- 0 East Morton
Fagley 1 - 1 Killinghall
Fagley 2 - 1 Ley top
Fagley 5 - 0 Southmere
Fagley 2 - 1 Dixons Manningham
We then advanced to the quarter finals
Fagley 2 - 0 Long leigh
We then played a game in the semi finals against Mr Rayners mums team
Fagley 2 - 0 Thornbury
Then in the FINAL
Fagley 0 - 2 Cross flats
All the way through the tournament the boys played as a team and this is reflected in our results.
The attitude from the boys was outstanding, they represented the school fantastically, showing great sportsmanship and respect to the officials.
We played a brilliant team in the final which consisted of players who play for Manchester City, Bradford City and Blackburn.
Special mention goes to Ausar Taseti of Yr4 (bearing in mind this was an U11s tournament consisting of mostly Yr 6). If it wasnt for his outstanding goalkeeping in most of the matches we would not of finished 2nd out of a huge total of 46 teams.
We are Very Proud of ALL the boys.
Ausar Taseti
Jack oMally
Rian Oniell
Elliot Brophy
Dominic Difiori
Hasan Mohammed
U9 Football
The u9 (year 4) team played on Monday 16th of May.
They were unbeaten in the league and didn't concede a single goal in six games until the quarter finals.
Goals coming from Ausar (4) , Anson(3) including one from a free kick all the way from the half way line.
Some amazing saves from Ahmed and great defending from year 3's Saif with Anthony from year 3 playing a vital role in link up play by supporting the goal scorers.
Loosing in the quarter finals against Cavendish 1-0 in the last 20 seconds. Great effort by the team who will continue to grow stronger and stronger in the coming years.
Netball Team
Fagley U11 Netball team took part in a recent tournament. Over the next 3 weeks they will compete against the different schools in the local area.
The team should be very proud of themselves, their team work and ball skills were fantastic throughout the different games.
Out of the five games they played, they won four and lost one.
Below are the scores for each game:
Westbourne- 5-3 Winners
Rainbow- 4-3 Winners
killinghall 8-0 Winners
Cavendish 3-1 Loss
Low Ash 7-1 Winners
Currently 2
nd
in the league.
Team -
Sahdiya
Rian
Fola
Abbie
Itbah
Hasibah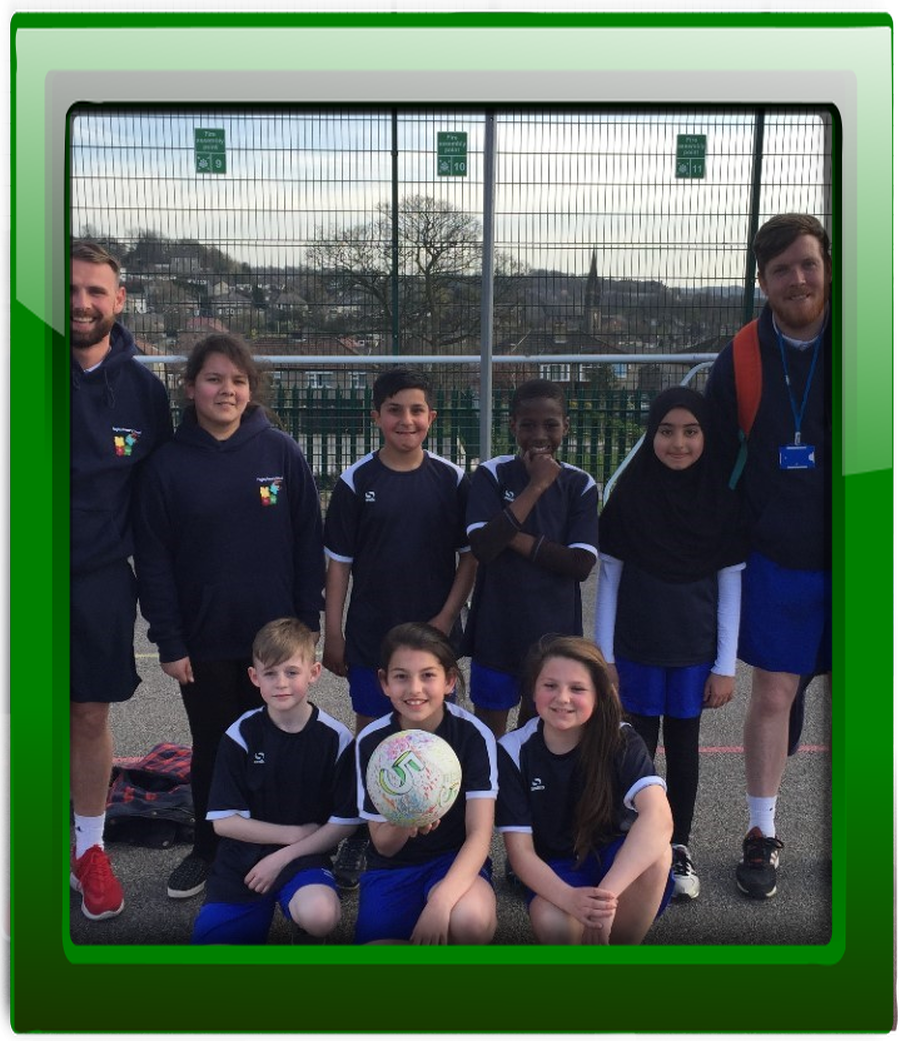 Football tournament Year 4 and 6
Squads:
Year 3/4
Ahmed (GK)
Anson
Ausar
Subhaan
Anthony
Saif
Year 5/6
Jack (GK)
Dom
Ion
Elliot
Rian
Bailey
Hasan
Farmaan
Both teams have been flying through the group stages with the Year 4s unbeaten until the final.
Goals from Anson in the group stages ensured a semi final place for them.
Year 6 won two and drew one also ensuring a semi-final position.
Both teams progressed to the final with some great fought out wins over very strong opposition.
The year 6 team lost in the final 2-1 conceding an unlucky goal. They were the better team throughout the game.
The year 4 team lost on the last penalty after a 0-0 draw in the game.
Outstanding effort throughout with both teams finishing runners up in the Bradford Sports UK festival.
Rugby tournament- 3rd, 10th and 17th March
Squad:
Rian
Elliot (C)
Anson yr4
Ausar yr4
Fola
Aisha Mckeating yr5
Sahdiya
Abbie
Dylan
Alex
After a nightmare of a start with two losses in the first week we then went on to be unbeaten throughout the tournament with last minute tries from Fola and Rian. These two were also awarded player of the tournament scoring 14 tries in 7 games. A great team effort throughout with defending improving game by game to finish 3rd in the league. A great comeback and mental effort from all after a disappointing start.
Netball Tournament, 14th April 2016
Team:
Rian (C)
Hasiba (GD/GK)
Amna (GD)
Fola (GA/GD)
Sahdiya (GS)
Farmaan (GA)
Itbah (GK)
Abbie (GA)
Won 1st game 3-1
Won second game 4-3 against Rainbow who beat us in the basketball tournament.
Scorers:
Sahdiya - 5 (Who was also top scorer in the basketball with 9 baskets in 7 games)
Rian - 2
Special mention to Itbah because it was her first tournament for Fagley Primary School, she was a great goalkeeper and played the position very tactically in her approach to defending.
Well done to all that took part with two wins in our first two games, a great team effort and individual brilliance.