Bradford City Visit
Bradford City Visit
24 January 2018 (by keira burnsall (kburnsall))
Year 2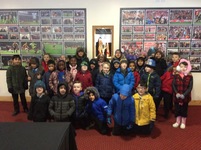 Class 2 went on a visit to Valley Parade, the home of Bradford City. We found out that Bradford City had won the FA Cup in 1911 and we compared the kits of the players then to the sponsored kits of the players today. We then sat in the 'posh seats' and looked across the stadium at the heat lamps defrosting the pitch. Ricky even showed us where he sits on match day!
We then went into the home and away changing rooms and found out what happens before a match. We even got to see the kit.
After that we went to look at the memorial to the fans that sadly lost their lives in the fire at the stadium on 11th May 1985. We found out the oldest person was 86 years old and the youngest person was only 11.
Finally we went to look at the trophy that Bradford City won when they were League Two champions. We found the shirt and photograph of James Hanson who we have been reading about in our book The League of Dreams by Mark Graham.
We had a fantastic time (even if it was a little bit snowy).