House Day
House Day
10 November 2017 (by keira burnsall (kburnsall))
Bolling Hall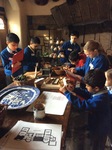 Sir Edward Appleton visited Bolling Hall on Wednesday 8th November. Situated in a quiet, leafy garden, Bolling Hall was the home of two important land-owning families. Children were thrilled to wander around the impressive house, which dates back to medieval times.
Pupils used the historic room settings to explore what houses were like in the past. They learnt about life during the time of the Great Fire of London and created their own collaborative scenes of the Great Fire.
During their workshop, children spent time exploring Bradford's heritage. They listened to two Bradford legends, before having a go at creating their own flash fiction.