House Day
House Day
10 November 2017 (by keira burnsall (kburnsall))
Miriam Lord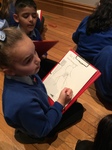 Miriam Lord went to Cartwright Hall for their house day visit. We visited the David Hockney exhibition and found out lots of interesting facts about him such as he was born in Bradford and went to Wellington Primary School. The children in the group were so confident that they could even share some of the facts that they had found out about David Hockney from previous experiences.
We looked at the different pieces of art Hockney created and discussed the different techniques that he had used. We then found our favourite piece of art work and attempted to use these techniques in our own creations.
After lunch we experimented with ink and also the IPads to produce different styles of work. We then presented what we had learnt to the children in Sir Titus Salt.
Looking at the finished pieces we may need our own Fagley gallery at Cartwright Hall.